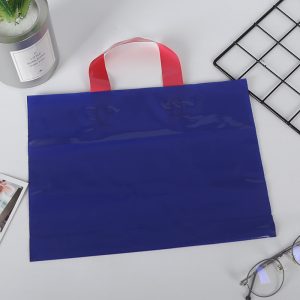 Product parameters
Size 1: 33x24x6cm
Size 2: 40x32x8cm
Size 3: 45x40x10cm
Material: PE
Characteristics
New materials, waterproof surface, a variety of sizes to choose from. Fine workmanship, good flexibility, bright luster and long service life. Widening the handle, reinforcing the design, not easy to break. Although the bag is thin, it has a large capacity, good bearing capacity, and is beautiful and practical.
Plastic tote
1. Advertising plastic tote bag of company unit category
Many companies or units are looking at the flowability and usage rate of plastic handbags. They generally choose to cooperate with manufacturers to customize their own brand of plastic tote bags, which can play a good advertising effect. The requirements are relatively high and the printing is also beautiful.
2. Market general plastic tote bag
Mainly in the vegetable market or the farmer's market, it is made of ordinary materials, the bag is thin, the color style is also more, and the quality is low.