Product parameters
Size 1: 35x40cm
Size 2: 34x39cm
Size 3: Custom
Material: cotton cloth
Characteristics
A selection of eco-friendly fabrics that are non-toxic and tasteless and can be recycled. The handle is double-stitched, the workmanship is fine, the line is neat, and it is firm and durable. The overall use of advanced sewing technology, the line is neat, not jumping, durable.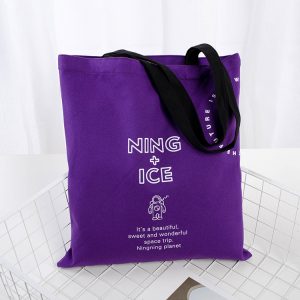 Cotton bag cleaning
1. The canvas bag wash is somewhat faded. Please do not use detergents containing bleach or fluorescence.
2. If the canvas bag is not stubborn stains such as oil, please reduce the amount of detergent.
3. Please wash the canvas bag with cold water, not expose to the sun. After cleaning, wrap it with a large amount of toilet paper. Keep it tightly to prevent the cross-color. It can also prevent the canvas surface from yellowing and then air-dry or dry, not exposed.
4. The leather of the canvas bag can be wiped with leather cream to avoid folding pressure to avoid deformation.
5. When the canvas bag is first washed, add salt or white vinegar to the water first, then immerse the bag for about 30 minutes to prevent fading.
6. The canvas bag has obvious stains to be partially cleaned. For example, the grease can be cleaned with detergent.