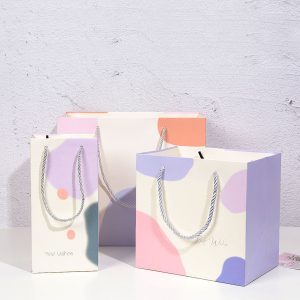 Product parameters
Size 1: 305x270x180mm
Size 2: 215x220x165mm
Size 3: 245x120x100mm
Material: white cardboard
Characteristics
Simple color-blocking pattern, light color, harmonious color, never tired of. Stylish hand-designed rope, fine twist rope style, beautiful and durable. The bottom is made of imported glue, the machine is bonded, the indentation is more uniform and beautiful, and it is not easy to fall off.
White cardboard tote bag
The white cardboard is firm and thick, has high stiffness, bursting resistance and smoothness. The paper surface is flat. The commonly used thickness is 210-300 grams of white cardboard, and the most used is 230 white cards. The paper bag printed with white cardboard has a full color and a very good texture. It is your first choice.