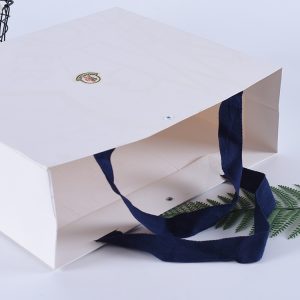 Product parameters
Size: 360x120x315mm / custom
Material: 250g white cowhide
Process: UV printing / embossing
Characteristics
The bottom is made of strong machine glue, reinforced design, stronger bearing capacity, firm and not easy to collapse. The handle is partially double-layered, not easy to break, widening the design, and does not hurt the hand. A variety of printing processes are available, the pattern is clear and solid, the color is natural and bright, and it is not easy to fade. Fine creases for easy folding and storage.
Whiteboard paper tote
The whiteboard paper is a kind of cardboard which is white in front and smooth, and has a gray bottom on the back. The commonly used thickness is 250g-350g. The whiteboard paper is white on one side and gray on one side, and the price is relatively cheaper than white cardboard.
PRODUCT PROCESS
SURFACE FINISH